Green Park, a prestigious residential neighborhood situated in South Delhi, India, offers a blend of convenience, vibrant community, and a thriving marketplace. Located in close proximity to renowned areas such as Hauz Khas, Safdarjung Enclave, and Greater Kailash, Green Park enjoys excellent connectivity to major roadways, ensuring easy access to various parts of the city.
Green Park is known for its prime location and bustling marketplace, which is a hub of activity for residents and visitors alike. The neighborhood is home to Green Park Market, a vibrant commercial center that offers a diverse range of shops, boutiques, restaurants, and cafes. Residents have the luxury of strolling through the market, exploring an array of retail options, indulging in culinary delights, and experiencing the lively atmosphere that Green Park Market has to offer.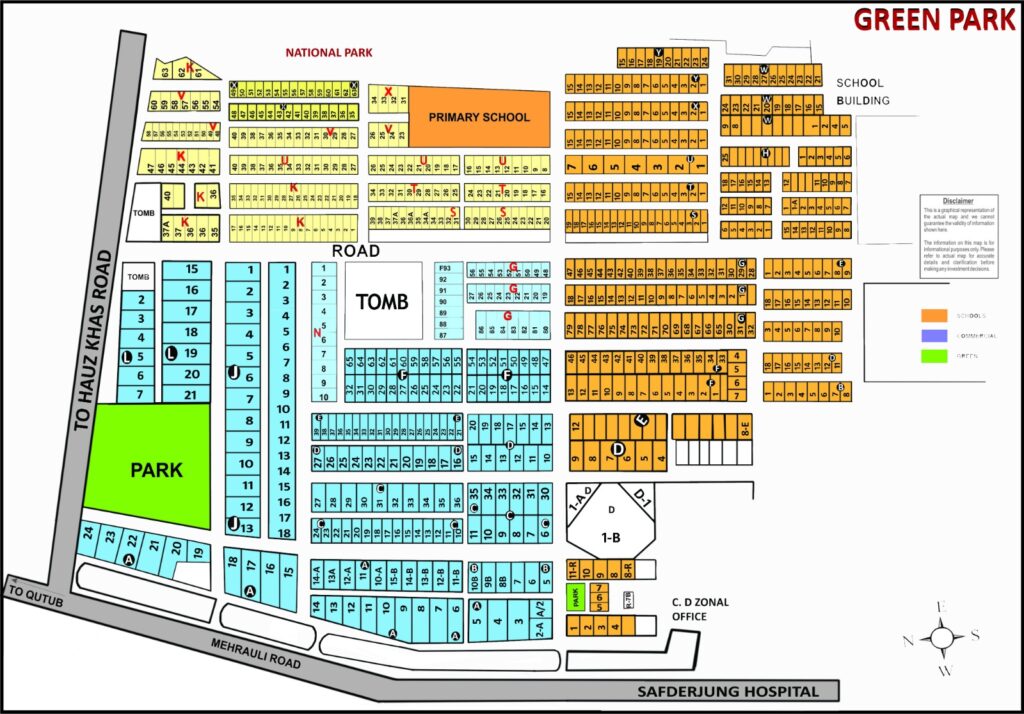 The housing options in Green Park cater to diverse preferences and lifestyles. The neighborhood boasts a mix of independent houses, apartments, and builder floors, each reflecting a unique architectural style. The well-planned layout of the area ensures convenient access to amenities and services for residents.
Green Park is home to a diverse and welcoming community. Professionals, artists, academicians, and families are drawn to the neighborhood, creating a cosmopolitan atmosphere. The residents actively engage in community events and initiatives, fostering a sense of togetherness and camaraderie. Green Park is known for its vibrant social scene, with various cultural associations organizing festivals, art exhibitions, and other recreational activities, providing opportunities for residents to connect and celebrate.
Safety and security are paramount in Green Park, ensuring a peaceful living environment for its residents. The neighborhood benefits from well-maintained infrastructure, efficient street lighting, and a vigilant security system, instilling a sense of peace and tranquility.
Green Park offers a wide range of amenities and conveniences to cater to the needs of its residents. In addition to the bustling marketplace, the neighborhood is home to several supermarkets, convenience stores, and specialty shops, ensuring easy access to daily necessities. The presence of fitness centers, healthcare facilities, and recreational spaces nearby enhances the overall quality of life for residents.
Families residing in Green Park have the advantage of easy commuting to nearby educational institutions. The neighborhood's central location and efficient transportation infrastructure allow students to travel to schools and colleges located in and around South Delhi with ease. This proximity to educational institutions saves valuable commuting time and offers students a conducive environment for learning and growth.
The central location of Green Park offers easy access to major commercial and business districts in Delhi, making it an ideal choice for professionals. The neighborhood provides convenient commuting options to significant employment hubs, ensuring a seamless work-life balance for its residents.
In conclusion, Green Park is a prestigious residential neighborhood that combines the convenience of a bustling marketplace, a welcoming community, and a prime location. With its vibrant marketplace, diverse housing options, and proximity to amenities, Green Park offers a well-rounded and fulfilling lifestyle for individuals and families seeking a vibrant and well-connected place to call home in South Delhi.