Hauz Khas, an enchanting neighborhood nestled in the heart of South Delhi, captivates residents and visitors alike with its unique blend of history and contemporary charm. Surrounded by prominent areas such as Gulmohar Park, Neeti Bagh, and Siri Fort, Hauz Khas offers a prime location that seamlessly combines the old-world charm with modern conveniences.
Hauz Khas enjoys excellent connectivity to major roadways, including the Outer Ring Road and Aurobindo Marg (also known as Sri Aurobindo Marg), ensuring effortless access to different parts of the city. The neighborhood's proximity to public transportation, including buses and metro stations, adds to its allure, making it a convenient and well-connected residential destination.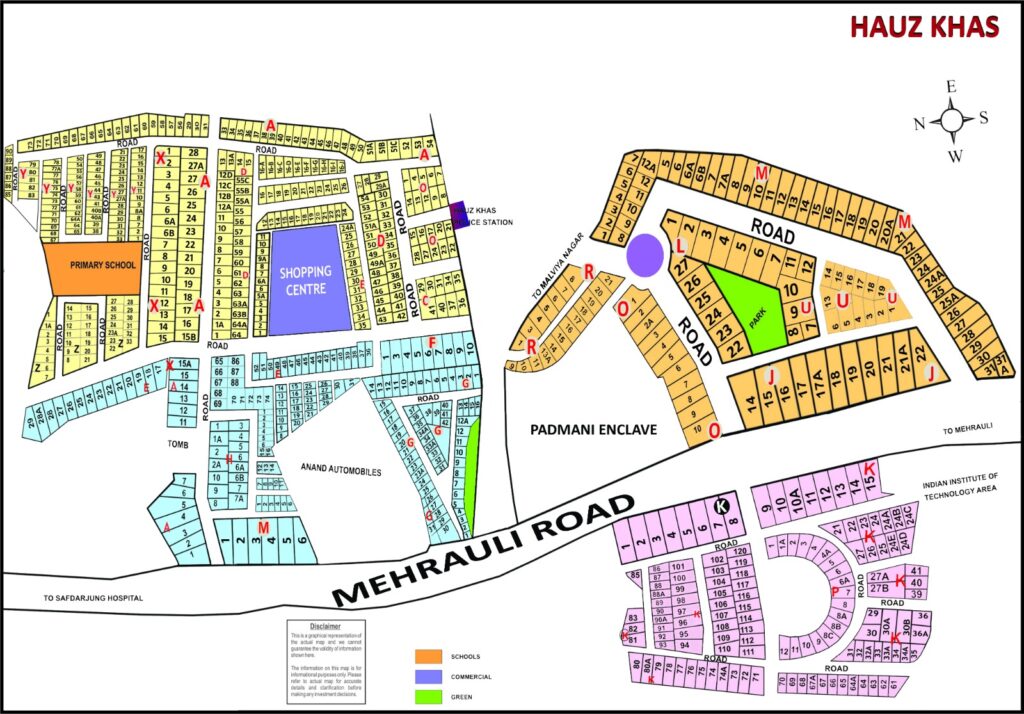 The historical significance of Hauz Khas adds a layer of intrigue and allure to the neighborhood. The name itself translates to "Royal Tank" in Urdu, reflecting its origins as a medieval water reservoir built during the reign of the Delhi Sultanate. Today, the area surrounding the Hauz Khas Complex is renowned for its vibrant energy, artistic atmosphere, and a seamless blend of modern architecture with ancient ruins.
Hauz Khas exudes a bohemian vibe and is known for its thriving artistic community. It attracts a diverse mix of residents, including artists, writers, musicians, and designers, who find inspiration in its atmospheric lanes and charming ambiance. The neighborhood's artistic spirit is reflected in its eclectic galleries, boutiques, and trendy cafes that line the streets, creating a haven for art enthusiasts and creative souls.
The community in Hauz Khas is a tapestry of diverse individuals, embracing a cosmopolitan outlook and fostering a spirit of inclusivity. The neighborhood welcomes residents from various backgrounds and walks of life, creating an atmosphere of cultural exchange and shared experiences. The strong community bonds are evident in the regular cultural events, art exhibitions, and music performances that bring residents together.
The allure of Hauz Khas extends beyond its artistic community. The neighborhood is known for its vibrant nightlife and a wide array of dining options, ranging from quaint cafes to trendy restaurants and rooftop bars. Residents and visitors can indulge in culinary delights from across the globe, experiencing a diverse gastronomic journey within the vibrant streets of Hauz Khas.
Hauz Khas is surrounded by a wealth of recreational opportunities. The Hauz Khas Complex, with its ancient ruins, serene lake, and sprawling Deer Park, offers a tranquil oasis in the midst of the city. Residents can explore the historical structures, take leisurely walks amidst nature, and enjoy breathtaking views of the lake, creating a perfect escape from the hustle and bustle of urban life.
The neighborhood's central location grants easy access to essential amenities, including reputable hospitals, educational institutions, and commercial areas. Renowned healthcare facilities like AIIMS, Safdarjung Hospital, and Max Super Specialty Hospital are within a short distance, ensuring quality medical care is within reach for residents.
For families with children, Hauz Khas offers a range of educational options. The neighborhood is home to prestigious schools and colleges, providing excellent academic standards and a nurturing environment for young learners. Institutions like Delhi Public School, The Indian School, and Lady Shri Ram College for Women are some of the educational institutions in the vicinity.
Professionals residing in Hauz Khas benefit from its proximity to commercial hubs and business districts. The neighborhood's location provides convenient access to Connaught Place, Nehru Place, and Okhla Industrial Area, where numerous companies, government offices, and startups thrive. The seamless connectivity ensures a short commute for individuals working in various industries.
In summary, Hauz Khas stands as a unique residential enclave that seamlessly blends history, art, and contemporary living. Its central location, vibrant artistic community, diverse culinary scene, and easy access to essential amenities make it a captivating neighborhood that offers a harmonious blend of heritage and modernity. Living in Hauz Khas allows residents to immerse themselves in a culturally rich environment while enjoying the conveniences and comforts of urban living.